Sat, Nov. 3rd, 2012
7am-4pm
Balcony circuit
Willow Springs International Raceway
3500 75th Street West, Rosamond, California 935
Note to participate drivers:
beginner friendly event
20 driver cap(meaning no more than 20 drivers)
must bring your own helmet(SAE or DOT rated)
Drivers must be at the track to check in by 7:30 (come on time, each car needs to pass the tech inspection, and drivers need to be briefed on track and safety rules. You are only cutting into your own track time by showing up late)
Regarding passengers, UNLESS you are staff(theres only 8 of us), and you want to carry a passenger or want to be a passenger in someones' car,
- the passenger MUST pay $5 for a voucher to sit in a car on the track.
-Without the voucher/wristband, you CANNOT be in the car while drifting.
-And you can NOT pay to be a passenger at the track!!!!!!!!!! Must be paid in advance.
-This is for legality purposes, no gimmick to steal your money for any reason. If you have questions, please email me. Thank you and I apologize for any inconvenience.
Email: Jackson at 626drift.com or just post a comment in our facebook event page below.
RSVP and discussion can he found here:
http://www.facebook.com/events/362390330510366/
Sign up via paypal:
To Sign up in person($80), ask for Denise at:
Garage Life 11128 Rush St., South El Monte, CA.1 626.455.0415
Or ask for Charlie at:
Sonic Motor 315 Cloverleaf Dr Ste C, Baldwin Park, CA 626-363-9036
Update:
Smokescreen Threadwear will be sponsoring a most insane entry contest at this event. Any driver can participate and has the chance to win Three shirts of their choosing from Smokescreen Threadwear. They are also giving away shirts to three lucky winners just for liking their page and saying 626Drift sent you.
So what are you waiting for? Like Smokescreen Threadwear on facebook and get ready to enter hard and fast!
Here's their facebook page:
http://www.facebook.com/SmokescreenThreadwear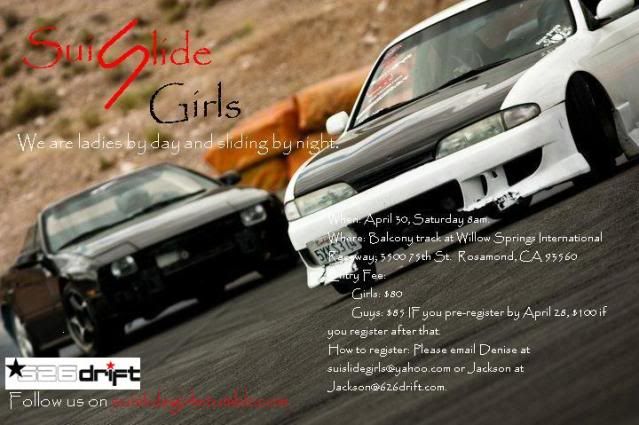 SuiSlide Girls, with our friends from 626 Drift, is having a drift event at WSIR Balcony at April 30, 2011. We are inviting everyone (especially the ladies) to come drift with us! Learn the basics, practice your donuts, practice the course or have fun doing tandem! Come join the SuiSlide Girls and the 626 Drift Crew and have fun burning up tires!!
UPDATE: Ex Formula D driver Quoc Ly will be instructing at this event! Come and meet Quoc Ly on April 30th! And there will be free food for all the drivers!
When: April 30, 2011 Saturday
Where: Balcony track, WSIR Willow Springs International Raceway in Rosamond, CA
Fees:
Girls: $80
Guys: $85 if you preregister by April 28, $100 if you register afterwards.
We are limiting the amount of drivers to 20 drivers only.
How to register:
Please contact Denise at suislidegirls@yahoo.com or Jackson at jackson@626drift.com. You can find us at the 626 meets in Alhambra on Friday nights as well!
Hit the Registration page to sign up!