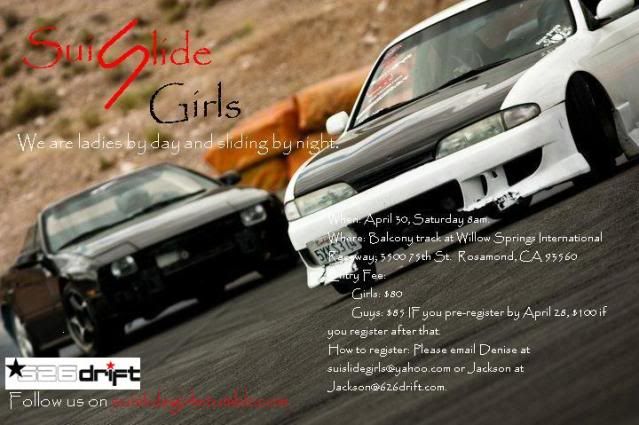 SuiSlide Girls, with our friends from 626 Drift, is having a drift event at WSIR Balcony at April 30, 2011. We are inviting everyone (especially the ladies) to come drift with us! Learn the basics, practice your donuts, practice the course or have fun doing tandem! Come join the SuiSlide Girls and the 626 Drift Crew and have fun burning up tires!!
UPDATE: Ex Formula D driver Quoc Ly will be instructing at this event! Come and meet Quoc Ly on April 30th! And there will be free food for all the drivers!
When: April 30, 2011 Saturday
Where: Balcony track, WSIR Willow Springs International Raceway in Rosamond, CA
Fees:
Girls: $80
Guys: $85 if you preregister by April 28, $100 if you register afterwards.
We are limiting the amount of drivers to 20 drivers only.
How to register:
Please contact Denise at suislidegirls@yahoo.com or Jackson at jackson@626drift.com. You can find us at the 626 meets in Alhambra on Friday nights as well!
Hit the Registration page to sign up!